CS-Graphx specializes in Microsoft® Access and is committed to providing outstanding service to it's client base.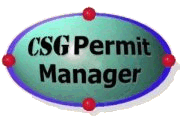 CSG Permit Manager by CS-Graphx is a software application designed to manage permitting functions for small to medium sized municipalities. Permit Manager is a Microsoft® Access based database application configured for one PC or a network of up to (15) users. Permit Manager is designed to operate on Windows XP, Vista, 7, 8 and 10.
Permit Manager is based on land parcels, enabling the user to automatically create new permits or record violations for a particular property and to readily track existing permits, violations and any associated inspections. Also includes tracking of Assets, Complaints and linking of Documents & Images to records.
Permit Manager users have found it to be extremely useful and easy to use, providing a complete solution for their Municipal permit management needs, including On-Lot Sewage Disposal System Management and Rental /Tenant / Landlord registration.
Permit Manager can utilize and link with available GIS data with the Parcel Map module.
In 2017, Permit Manager was acquired by C.S. Davidson, a civil engineering firm in South Central PA. CS-Graphx founder, Cork Shunk, will continue to develop and support his program. C.S. Davidson is currently working on a web edition of Permit Manager that is true to the original, in both function and form. The firm is committed to providing practical, easy-to-use solutions to municipalities, as evidenced in their existing CSDatum service.
---
Last updated April 13, 2018
All Names, Copyrights and Trademarks are the property of their respective owners.
Copyright 2001-2018 CS-Graphx... cork@cs-graphx.com 231 Reeders Run Rd Stroudsburg, PA 18360... 570.460.3730